"Dealing with Delays"
A nightmare for project managers and team leaders.
Even a fully strategized project scheduled with realistic goals do encounter unpredictable delays.
A small project delay also means : extra resources, additional budget, missing deadlines, delay in dependent tasks, stressed team members and management, and in the worst case scenario, derailment of the whole project. Result, loss of client, client's trust, and profit.

Regardless of the detailed and well-scheduled project planning, a delay is an unwelcome guest who is anticipated to arrive at any time.
In fact, everyone is aware of the basic fact of project delay : "It's not about when it will occur, but how to handle it once they do."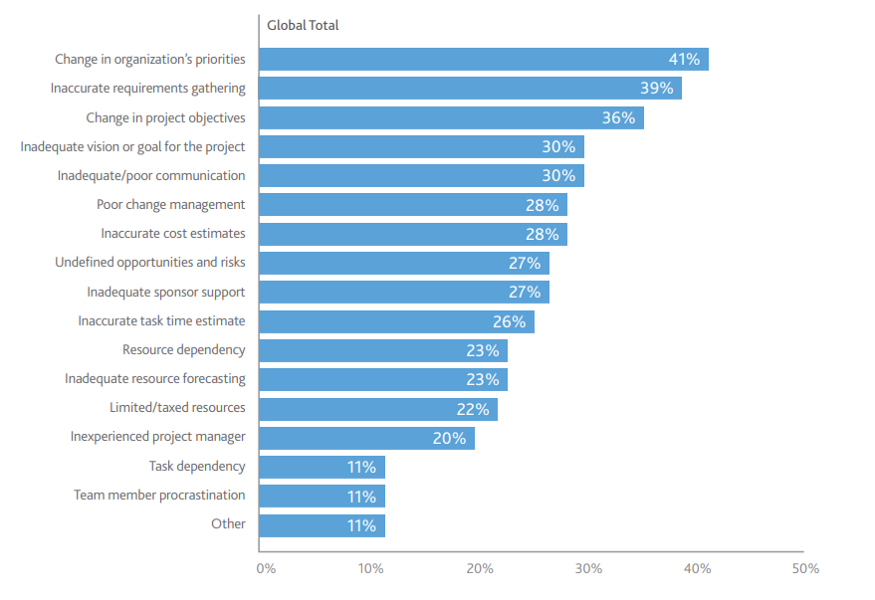 Major Causes for Project delay
Project delays are annoying and frustrating to work and handle. They sometimes get expensive and go off track. There are also situations where project delays have resulted in complete failure, leading to dropping of the whole project.

There are a lot of known and unknown reasons that cause project delays. The commonly prevailing reasons are listed by PMI:

5 Effective Ways of Managing Project Delay with Zace :
Certain project delays can be easily predicted, and managed if the project leader or manager is aware of the project lifecycle, progress, and corresponding outcome.
Data Accuracy for Effective Project Planning
Before project scheduling, pull in all necessary details like tasks, project flow, estimated timeline, task deadline, estimates, and also expected challenges. Schedule tasks and deadlines based on the data.
Scheduling and developing an effective project planner can be easy with pen and paper but, deciding on the timeline for one task itself takes a significant amount of changes, edits, and steps before finalizing with the final decision.
This is where Zace helps project managers and the management to schedule a powerful and effective project plan. The simple and user-friendly Zace project planner and project management app helps with its robust features and simplest tools to simplify the whole planning process.
Zace Project Planner helps in:
 Easy scheduling and managing of tasks.
Quick finalization of project workflow.
Immediate insertion of tasks and milestones.
Drag & Drop option to quickly change task or project workflow.
Visualizing the project workflow even before finalizing, in the effective Gantt Chart view.
2. Delay allowance
Implementing delay allowance at the time of scheduling tasks is something experienced and skilled management team and project managers implement while handling complex projects.
Delay allowance acts as buffer time and increases the length of time in project scheduling in advance, to handle unpredictable contingencies. This increases project safety, project quality, and also, prevents project delays. Moreover, with no contingency and reduced buffer time, it also helps in completing the project earlier than the required timeline. Early output means satisfied clients and a happy team!
With Zace's colorful visualization, it's easy for project managers to differentiate estimated timeline, delay allowance time, and current progress.
3. Set realistic goals, and milestones
Understanding team members and their performance will help in setting more realistic goals. With realistic goals, it will be easier to achieve them and can avoid burnout in team members. When it comes to complex projects where team members need to work for a long time, setting realistic goals avoid fatigue and burnout.
Zace helps project managers with quantifiable indicators to easily access the progress of the project alongside the performance of the team members.
4. Ensure team members are on the same page
Conduct frequent meetings with team members to ensure everyone is on the same page in understanding the project. But meetings are boring and time consuming. Evaluating and constantly following the workflow of the project with Zace will help in foreseeing and preventing project delays, without meetings. And also supports in understanding the opinions and stress level of the team members at the initial stage of the project. This helps in breaking down tasks to ease the process.
With unlimited sharing, Zace Gantt chart helps the team members to get a clear view on the project from anywhere, get details of the progress, and also raise queries at any time.
5. Focus on Initial Delays
Take initial delays seriously as they help in re-evaluating the project planning and scheduling. Updating clients on the real-time risks involved helps in letting them know about the status of the project.
Zace app saves time and resources effectively and acts as the perfect software tool in informing the updates to team members, clients, management, and shareholders or third-party members involved. Going paperless, all it takes for the project manager is, few minutes to update the Gantt chart and inform about the new or modified project schedule.
Zace supports effectively in many more ways to prevent and handle project delays, like:
Zace supports with daily updates on project's progress and hiccups to all involved. This helps in letting the next team get prepared, in case the dependent task is finished earlier than the estimated time.
With Zace, effective resource management is an easy piece of cake. Zace's task progress helps in hiring the best resources for upcoming tasks. This increases productivity effectively.
Zace performance review helps team managers know more about their team members, their skill set, issues, and performance. This helps in spending quality time in improving the performance of team members.
Zace helps in modification of schedules, small or big, as per the requirement and situation. With Zace, informing the changes is just "one notification" away!
Zace ensures easy review of performance and progress measurement.
All these and many more, Zace helps in effective and better scheduling of projects. With project managers getting better at scheduling projects, effective project management and increased productivity is assured.
Successful completion of projects cements your success and perfection in the industry. Effective project management ensures increased productivity, growth, profitability, and client satisfaction.