Using Gantt chart for project management is an excellent strategy to track project schedules, team members' performance, project's progress, and deadlines. Gantt chart based Zace Project Planner and Project Management App is the easiest app to install, add projects in Gantt chart (even for a beginner), update, share, and manage projects at ease, on-the-go.

With  Zace app, making Gantt chart is  time-saving, easiest, and also supports modifications in the future, helping in easy communication and collaboration, on-the-go. Without any barriers, transparent communication and collaboration is possible, from team members to clients. This helps in easy understanding and handling of the project, and above all, a smooth and error-free project workflow.
Data Points of Zace Gantt Chart
Every Zace Gantt chart requires these aspects to be filled while starting to develop a Gantt chart for your project.
Project Name
List of Assignees
Start Date
Tasks with start date, end date, and resource(s) assigned
Sub-tasks with start date, end date, and resource(s) assigned
Milestones
Dependencies between tasks or sub-tasks.
Project end date.
Share project to clients.
Using a Zace Template for Your Project
You can confidently kiss a happy goodbye to Excels used for project management. Gantt chart based Zace app helps you have your project in your pocket, and stay updated, on-the-go, without any unwanted stress.
And with Zace's templates, designed under the supervision of experts of the respective industries, Zace has made your project planning, and project scheduling much easier task, giving you the supreme power to kick-start your project. Zace templates are build exclusively for an easier, smoother, and time-saving project scheduling and project management. With Zace "Templates" and "Clone" support it's easier for any project manager to fast forward scheduling and prevent potential delays.

Zace templates are easiest, even for beginners, and for someone who is new to Gantt chart.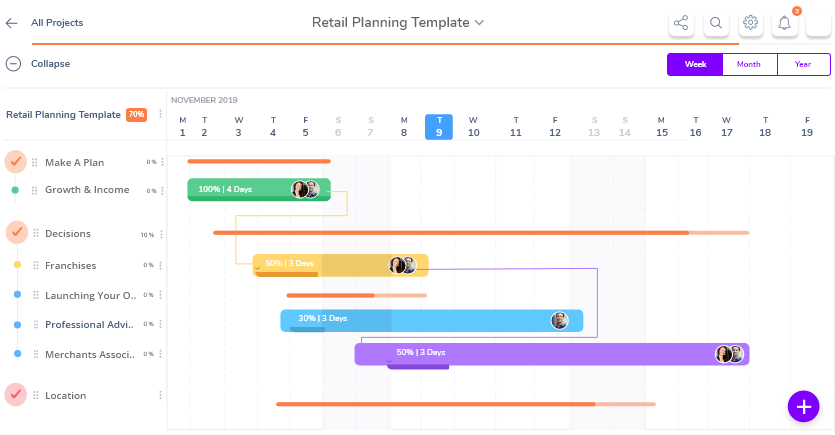 Gantt chart based Zace templates are effective project planner and project management tools, designed and developed to create an effective visual timeline of your project, regardless of the industry you are in. 
With pre-defined yet customizable tasks and sub-tasks, you can save time and start assigning tasks and sub-tasks to resources. Scheduling takes less than 3 minutes with Zace templates, even with no learning curve. 
Starting New Zace Gantt Chart
Scheduling a new project using  a new blank Gantt chart in Zace, helps in handling project workflow and team members easier and smarter. Breaking a project as per your feasibility and assigning tasks and sub-tasks to team members, has proven to be more effective. 
Starting a blank or new Gantt chart to create an effective project workflow, as per your project requirement takes less than 5 minutes, if you have your tasks and sub-tasks defined and the resources assigned.
By creating a new Zace Gantt chart and breaking a task or sub-task into doable chunks, helps in better team and individual performance, thus increasing the productivity of the team.
Know more on how to create a new Gantt chart, here.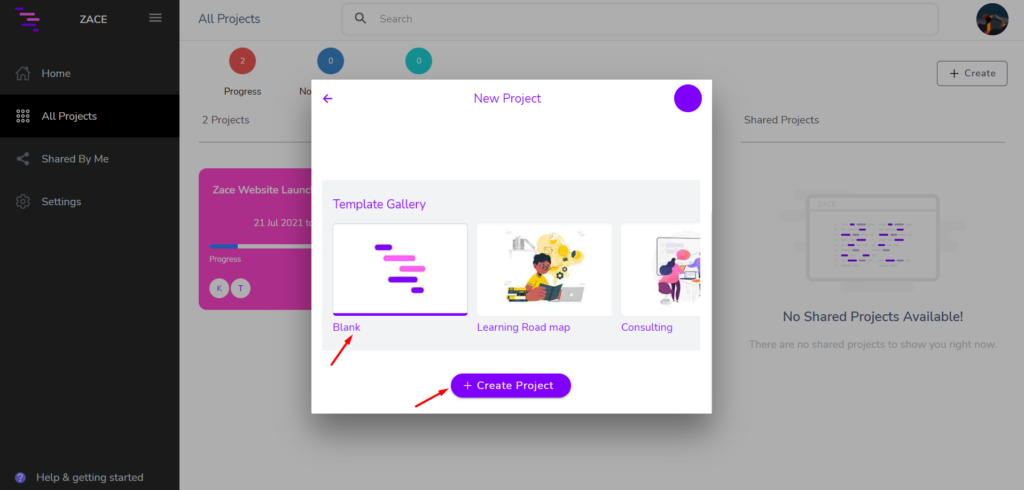 Benefits of using Zace for Project Management
With Gantt chart based Zace Project Planner and Project Management :
It's easier for you to break projects as per your project requirement.
It's effective to use Zace templates and save time.
Team members can have a check on workflow and project flow, at any time.
You can manage projects on-the-go.
You can manage and stay on track with multiple projects, at a time.
It's easier to communicate and collaborate with team members and clients.
Effective to add or modify tasks or sub-tasks, and inform the whole team, in a click.
Understanding task dependencies is easier.
You can detect issues and delays beforehand.
It's easier to avoid burn-out among team members.
In one look, you can visualize the whole project flow and the timeline.
Monitor the progress of project, tasks, sub-tasks, and team member's performance.
Improving team and individual's productivity is quicker and easier.