Whether it's a corporate or special occasion event like birthday parties, weddings etc., the process of planning and coordinating the event includes multiple steps and factors into consideration. As an Event Planner, while organizing and holding an event the main priority in the entire flow would be proper planning, organizing, and ensuring a smooth flow of success.
A poorly organized corporate event or any grand event results in a forever damage to the reputation of the event planner, the business, as well as an unforgettable memory in the business or family for whom the event was organized. Event, be it corporate or a special celebration based event, the planning for coordinating an event can include : 
Detailed Planning 
Budgeting
Scheduling to meet the timeline
Venue Selection & related permits
Parking & Transportation
Decor & security arrangements
Catering Services
Coordinating with vendors and suppliers.
Onsite Coordination
Prepare for Contingencies.
Gather feedback and evaluate post-event.
Without going into detail, this entirely sounds exhausting indeed. Experiencing it as an event planner, organizing multiple events at a time, could drain you on a daily basis.
Zace, understanding the pain of every event planner, has come up with an event planner template, that can be customizable as well! Now, event planning can be made more efficient and organized by utilizing Zace project planner app. Zace offers features that help all event planners to manage tasks, timelines, budgets, and collaboration with their team.
So, how to incorporate Zace project planner app into your event planning process?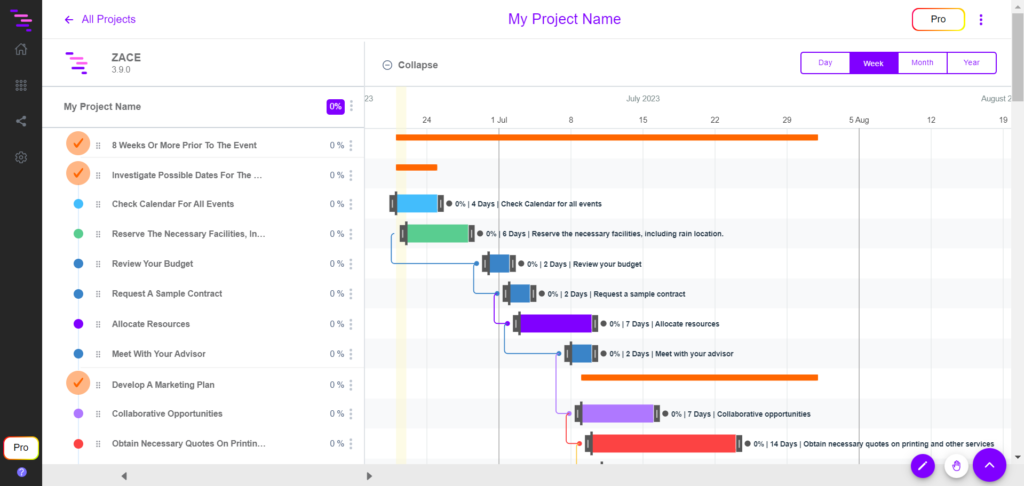 Explore Zace Template: Download free Zace app and explore the templates. Select the Events template with pre-filled tasks and sub-tasks. Not matching with your flow? Go head and edit it! In 2 mins, you have the entire flow for your events prepared!

Set up your project: Include any number of projects. Clone or create a new and have the team informed about the new project in lesser time. See for yourself! Create a new event in the template by giving it a clear and descriptive name, set the start and end dates of the project. 

Create task lists: Break down your event planning process into smaller tasks and create task lists within the Zace app. Modify the task and sub-tasks as per your event requirement. Add new tasks or sub-tasks to existing tasks, and set new milestones as per the feasibility of your team and client. Some common task lists might include venue selection, catering, decorations, entertainment, marketing, and logistics. Add all the necessary tasks to these lists. 

Assign responsibilities: Assign team members or individuals responsible for each task, and keep everyone informed about their roles and responsibilities.

Set deadlines and milestones: Assign deadlines to each task to keep the project on track and watch the updates from anywhere.

Track progress: Regularly update the app with the progress of each task. Include new tasks if any immediate requirement arises.

Manage resources and budget: Add notes to every task and subtask and track resources and budget. Utilize these features to monitor expenses, allocate resources, and ensure you stay within your budgetary limits.

Collaborate with your team: Zace app supports collaboration features, such as commenting, file sharing, and notifications. Use these features to communicate with your team, share important documents, and provide updates on task progress.

Clone or Customize: Zace allows you to clone a project or customize the existing project to suit your specific event planning needs. Adjust the event's date and time, resources, create and share new event tracking in few minutes.

Review and adapt: Regularly review the project plan within the Zace app to ensure it remains relevant and reflects any changes or updates. Make adjustments as needed, such as modifying deadlines, adding or removing tasks, or reassigning responsibilities. Track performance and strategize to satisfy clients as well as team members and grow your business.
By utilizing Zace app, you can streamline your event planning process, improve communication and collaboration with your team, and have a centralized platform to manage all aspects of your event.
Download Zace and see the growth yourself!